Amada HFA430CNC automatic bandsaw machine

Accurate Cutting Services is proud to announce the introduction of the new Amada HFA430cnc dynamic bandsaw.
Description
Amada HFA430cnc dynamic bandsaw
Accurate Cutting Services is proud to announce the introduction of the new Amada HFA430cnc dynamic bandsaw. This is a dynamic high performance saw featuring many new technologies. This new saw was initially presented at the EMO fair in Hannover, Germany 2013.

New Technologies
Dynamic frame
Highly rigid frame that incorporates a newly designed double guides frame (dynamic frame)
New CNC control facilitating ease of use and rapid setup
Three different cutting modes for maximum efficiency: "Eco-mode", "Standard-mode", and "Power-mode"
Double vibration dampening rollers
Double rollers reduce vibration resulting in faster and quieter cutting while improving blade life
New saw blade frame design results in longer blade life
By reducing the twist in the blade, fatigue is greatly reduced leading to longer blade life
High efficiency
Higher material yield by producing a material remnant as small as 35mm
Improved cleaning and capture of material chips through a cleaning device mounted on the saw (chip flusher)
The work feed table and the work tray are open-top designed and long stroke feeding vice is adapted
The machine is equipped with the function of reducing the operator's workload during unload the work pieces (quick hoisting-function)

Video
AMADA has already achieve great success with high end models like a Pulse Cutting Band Saw (PCSAW) series, and other standard models such as the H and HS/FA series. The HFA430cnc is released as a middle of class machine, designed to give an optimised performance with a competitive price point.

Ease of Use
Automatically adjusting wire brush
Reduces adjustment time and assures accurate position of the brush
Open top, longer feed stroke vice
27 inch rear feed vice stroke length
Non-contact material positioning
Auto trim function using a laser to detect the material position results in shorter run times.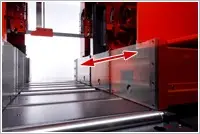 Environmental Improvements
Increase material yield by new vice
A new rear vise design reduces the remnant length to 35mm plus the length of the part improving the yield out of every bar cut.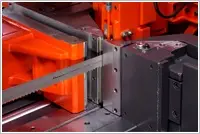 LED work light
Amada HFA430 work illumination
New LED work light conserves energy, lasts 8x longer and provides a much brighter cutting environment.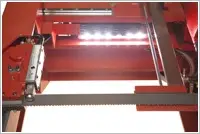 Automatic cutting fluid supply
Automatically supplies cutting fluid only when the machine is cutting using less energy.
SMARTCUT BAND (Option)
SMARTCUT BAND (optional) saves material loss and increases yield.
Improved Working Environmental
Smart blade change feature
Blade support holder makes eases the task of changing blades
Chip flusher
More efficient chip flushing is built into the machine design to facilitate up time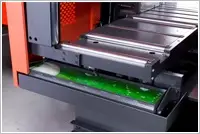 Burr removal
Burrs are reduced by the unique design under the cutting area
Position the remnant into the best location
Automatically measures weight and balance of the remnant material and then positions the remnant into the best location to sling it.
Discharge table
The discharge table, too, has a retractable device allowing easier overhead material removal.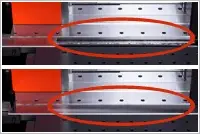 Specifications
HFA430cnc
Cutting capacity (mm)
Round (Diameter)
30 – 430
Rectangle (W x H)
30 – 430
Min. cut-off length
10
Min. remnant length
35
Blade size (W x T x L) (mm)
41 x 1.3 x 5300
Blade speed (m/min)
15 – 120
Motors (kW)
Blade
5.5
Hydraulic pump
1.5
Coolant pump
0.18
Wire brush
0.09
Power requirement (kVA)
13
Feeding vice stroke length (mm)
700
Tank capacity (L)
Hydraulic
20
Coolant
68
Table height (mm)
700
Allowable load (Mass of work) (kg)
3000
Machine dimensions (W x L x H) (mm)
2520 x 2180 x 2020
Mass of machine (kg)
3500
These specifications and machinery and equipment appearance are subject to change without notice for reason of improvement.