Amada bandsaw blades are available for all industrial metal cutting bandsaws in bi-metal and carbide tipped types. Bandsaw blades for all makes of saws and and all ferrous and non-ferrous metals.
Sawing metal requires the right bandsaw blades on the right saw and as Amada manufactures bandsaw machines and bandsaw blades with control over the design and manufacture of both, you can be sure of the ideal solution to metal cutting for stainless steel, nickel alloys, titanium, aluminium, and all steel alloys and other non-ferrous metals.
AMADA quality control is of the highest order, conducting weld strength (bending) tests under stringent test conditions to ensure the manufacturing process produces high quality long life products and offers the right sawing tool for every application. The product portfolio consists of Bi-Metal, Carbide tipped (TCT) and matrix bandsaw blades to suit all sections; bar stock, blocks, plate and tube, formed and rolled sections, castings and forgings. For decades, the name AMADA has stood for innovation, excellent quality and performance in metal cutting saws and blades.
COST REDUCTION THROUGH PERFORMANCE
For typical processing tasks, the costs for the blade amounts to 10% or less of the total cutting costs. The largest part relates to overheads, machine and personnel costs. The best way to reduce costs is to increase cutting performance.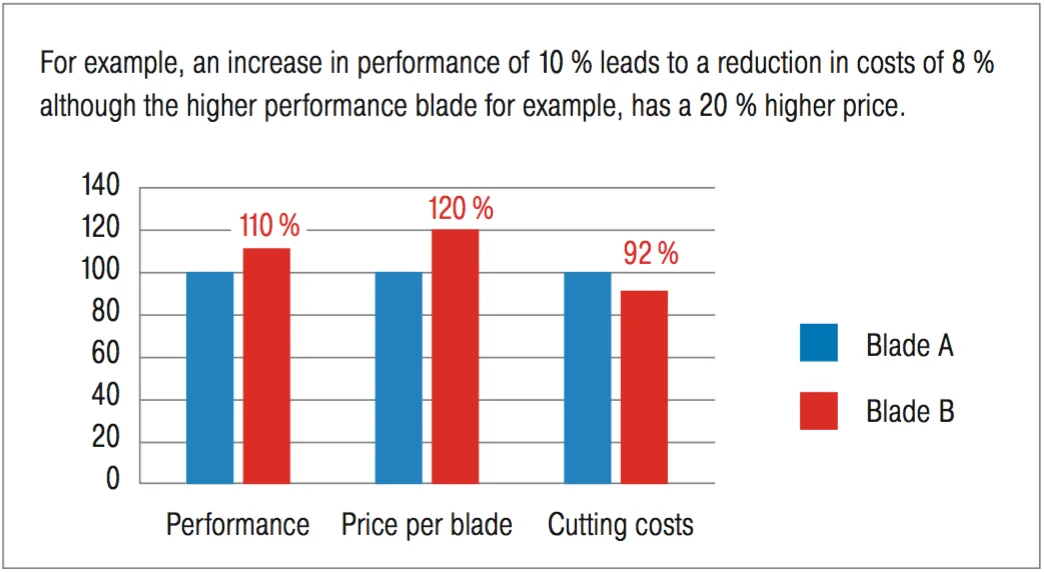 Savings from low priced saw blade have less real benefit because only a relatively small part of the total sawing costs are reduced which has no influence on the overall cutting costs.
By using a blade manufactured for faster cutting, the benefit is realised against the larger overall costs.
This is the reason why an increase in performance leads to a tangible cost reduction despite higher saw blade prices. For this reason, AMADA always recommends using the best technical solution.
For example, an increase in performance of 10% could lead to a reduction in costs of 8% although the higher performance blade for example, has a 20% higher price.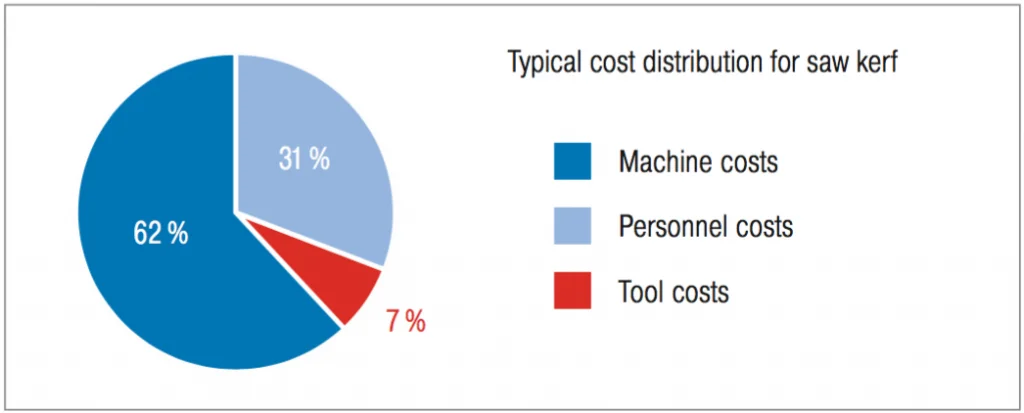 If you wish to calculate the potential lower cost of cutting, assess all the costs of operating the saw, including the hourly overheads, cost of acquiring the saw, depreciation, saw maintenance costs, coolant cost, personnel costs and how many blades are used, cost per blade against the saw output.
Remember, though, that a blade can only perform to its optimum if the saw is also performing to its optimum. A worn out or poorly maintained saw will compromise any blade used. Similarly, ensure you are using the correct feeds and speeds for the material you are cutting and the right choice of blade and coolant.
Race cars only win races when everything is tuned up, including the driver!