About Accurate Cutting Services Ltd
Accurate Cutting Services – an unrivalled subcontract sawing service
Accurate Cutting Services supplying cutting solutions to Britain's manufacturers approaching five decades
Today, after 50 years of sawing Accurate Cutting Services Ltd is still a private family owned business, but has increased in size and scope through the acquisition of Birkett Cutmaster Ltd. Now operating from two main sites, Redditch in Worcestershire, and Cleckheaton in Yorkshire, we can offer faster response to customer needs in machine servicing and repairs, and a new larger portfolio of products for UK distribution.
Our main products are:
Subcontract sawing services
Bandsaw blade welding and supply of Amada bimetal and carbide tipped blades
Circular saw blade sharpening and supply of Julia HSS and carbide blades
Bandsaw machines from Amada, Pedrazzoli and Soitaab/Friggi
Circular saw machines from Amada and Pedrazzoli
Service, spares and repairs for most make of saws, and especially Amada, Pedrazzoli, Soitaab or Friggi.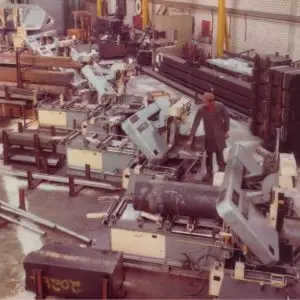 Amada saws were used extensively for nearly 50 years.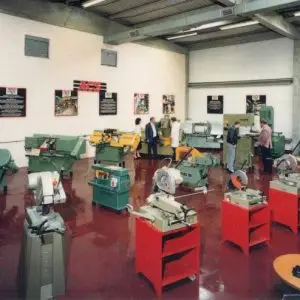 History of Accurate – The first showroom for new saws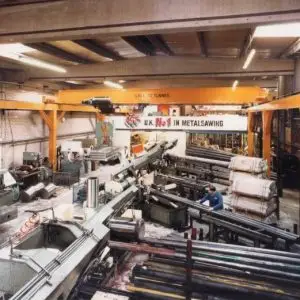 History of Accurate – Amada saws in the first saw bay at Redditch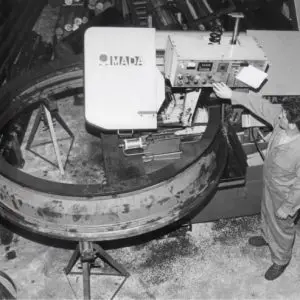 History of Accurate – Even over 40 years ago, Accurate found a way
History of Accurate – Even over 40 years ago, Accurate found a way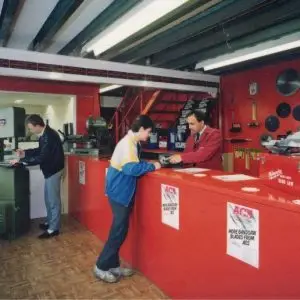 History of Accurate – Bay 2 opened – trade counter and a young Jason and Les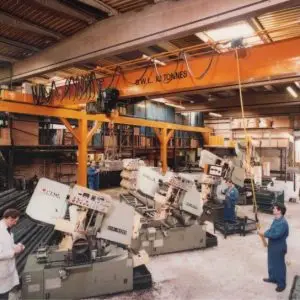 History of Accurate – Amada saws; the backbone of Accurate for over 40 years
The core of Accurate Cutting Services remains subcontract sawing, however using the same saws that we distribute gives us a practical advantage when considering customer requirements for the selection of their own sawing capacity, and also allows Accurate to select the best equipment for our own use.
"Accurate Cutting Services understands our needs and those of our customers"

Andrew Nicoll, Business Development Manager, Callender Lancashire Aeropart Ltd.
ts advanced capabilities in reshaping metals have brought added value in a variety of industrial sectors, including aerospace, automotive, construction, energy and marine engineering, whether cutting from billets, bars, plate or blocks, to sawing fully or part machined components to optimise manufacturing yield or improve dimensional accuracy at lower cost.
With knowledge and skills acquired over nearly 50 years of service to industry, and by investing in locations best suited to customers, Accurate Cutting Services has won an unrivalled place as a technical partner to leading UK manufacturers.
Offering the UK's largest, most versatile sub-contract metal sawing service
"Accurate Cutting Services has proved itself very flexible and quick to respond to sudden changes in our production programme"

Ian Young, Managing Director, Stokes Forgings Ltd.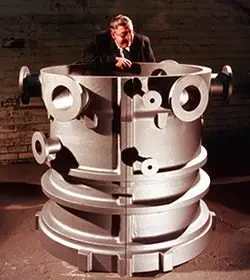 Its sectioning of part-finished or finished forgings, fabrications and castings brings benefits such as low material loss, nil distortion and improved accuracy. Manufacturing processes are simplified, with reduced production times and lowered direct costs.
Doncaster FVC's case book of advanced applications includes sawing, in two, a centrifugally-cast turbine generator casing, 1350mm long, 1450mm in diameter and with 200mm thick walls, using what is one of the UK's largest horizontal band saws.
It produces high volume rounds, squares, solid bars and tubes, also, to close tolerance, in ferrous and non-ferrous metals. One object for such precise cutting was a multiport extrusion, demanding minimal distortion.
"The casing is for Siemens Industrial Turbomachinery AB, and without the assistance of Accurate Cutting Services it would have been a struggle to find a subcontractor with the knowledge and capacity to cut such a large casing"

Keith Winkley, Doncasters FVC Ltd
Adding more value – by working near to its customers
The company's responsiveness to industry's needs has led to it establishing working cells in Lancashire, Yorkshire, West Midlands and a second Redditch location. Some are within customers' own premises, reducing WIP and transport costs and optimising response-to-change times.
Its services bring the greatest possible value to the customers there. Lead times and costs are low in the JIT working, and communications are ideal.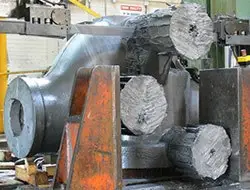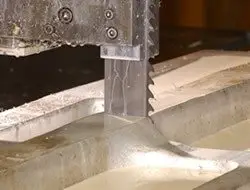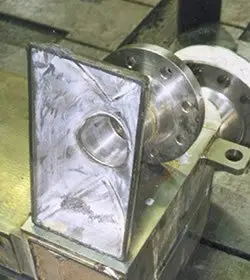 Advanced investigation and value-recovery services
Accurate Cutting Services provides facilities for the investigation of component or fabrication failure, as well as valuable opportunities for reclamation. The company can tackle large items through the skillful use of its heavy duty bandsaw machines. It was selected as the only company capable of sectioning a 1500mm reactor vessel cylinder for Europe's Health & Safety Commission.On another occasion, a close tolerance cut was required to remove a flange header from a sophisticated heat exchanger, made in a titanium alloy. The company had to dry-cut this in-line component from the petrochemical industry, because contamination of the continuous process could not be tolerated.
Solutions, too, through sawing-machine and blade sales and service
Accurate Cutting Services applies its 50 years experience of developing, manufacturing and using band and circular saw blades, and machines, to providing sales and support solutions to their users.
With the metals used in today's manufacturing including advanced alloys with extreme thermal, chemical or mechanical properties, heavy demands are made of blades. The right choice of blade to use, and its proper maintenance, are vital if delivery times, productivity targets and quality standards are to be met.
To provide the best possible service responsiveness, the company's blade manufacture, grinding and repair, and sawing-machine repair work, are carried on around the clock.