Our Quality Accreditation
Quality accreditation approvals EN 9100:2018 and ISO 9001:2015
(Registration No: FM 01824)
Approved supplier to the aerospace, automotive and petrochemical industry with quality accreditation.

The cutting of all types of materials to customer drawings/specification for general engineering and aerospace industries. Capacity up to a envelope of 6000 x 2000mm on a gantry saw and 1100 x 2000 x 6000 mm on vertical band saw. Also a fully equipped auto saw shop which has a capacity from 6mm to 590mm diameter.
The quality accreditation includes a system to provide lot traceability to raw materials/components operating within a Quality Management System, which complies with the requirements of pr EN9100:2016 (technically equivalent to AS9100D and JISQ 9100:2016) and ISO 9001:2015 and is assessed in accordance with EN 9104-001:2013.
Mitre and angle cutting capacity up to 2000mm (78″) round or square. Maximum weight limit 25 tonnes.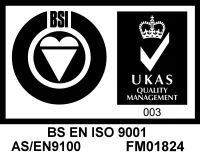 Approved supplier for:
Others (accessible on request)