Amada CMB100 carbide circular saw

High speed production carbide circular saw for use with circular carbide blades.
Description
Circular Saw CMB 100
High speed production carbide circular saw for use with circular carbide blades.
The optimum solution for the sawing of bar material with maximum precision and minimum cycle time.

Features
High Performance Sawing with Precision
The inclined guide of the saw head ensures a perfect chipping angle, achieving both extreme accuracy and maximum cutting performance.
Amada Circular Saw Blades
The use of very thin carbide saw blades with a small cutting width guarantees minimal waste with maximum machine performance. Due to the special tooth geometry, optimum cut faces are produced with almost reflective surfaces.
Wide Range of Machining
The CMB circular saws make it possible to machine many materials and forms: solid material, tubes, square material and profiles.
Cleaner and Drier Sawing Process
The proven minimal quantity lubrication system ensures clean and almost dry cuts. The combination of the proven Amada CNC technologies means that reworking is unnecessary in most cases.
Easy Operation
The practical Amada CNC technology enables easy operation without the need for machining or programming knowledge.
Maximum Tool Life
In order to reduce the vibration of the saw blade, the machine is equipped with special saw blade plate guides, which guide the blade on both sides near the tooth engagement. This results in maximum cutting precision and optimum blade life, giving an excellent cost per cut ratio.
Cutting Capacity
Round material (diameter in mm) 25 – 100
Rectangular material (edge length mm) 25 – 75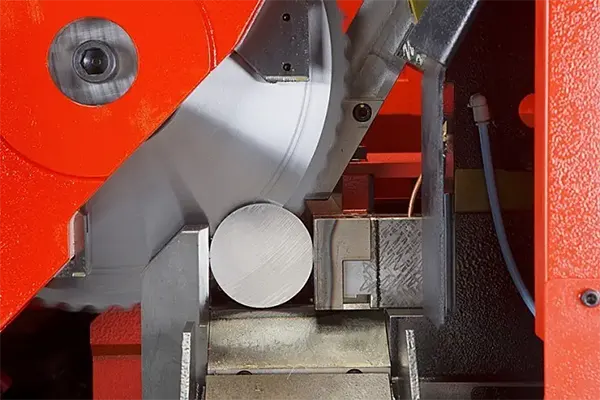 Fit Amada saw blades for best performance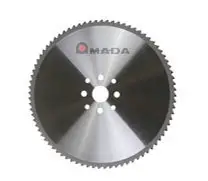 Technical Specs
CMB-100CNC
Machine
Cutting capacity
(mm)
Round (Dia)
25 – 100
Rectangle (W x H)
25 x 25 – 75 x 75
Saw blade
Blade size
(OD x Bore x T) (mm)
360 x 40 x 2.6
Number of teeth
60, 80, 100
Blade speed
(m/min)
56 – 210
(Inverter controlled invariable speed change)
Motors (kW)
Saw blade
11
Hydraulic pump
1.5
Cut to length feed
2.0
Power requirement (kVA)
30.3
Tank capacity (L)
Hydraulic
20
Table height (mm)
930
Machine dimensions
(W x L x H) (mm)
2413 x 7310 x 1872
Mass of machine (kg)
2500
Automatic loader
Allowable load
(Mass of work) (kg)
3710
Mass of Automatic loader (kg)
810
Video
With its convenient control and its frequency-controlled variable speed control, the Amada carbide circular saw CMB 100 CNC meets highest demands on cutting precision and machining performance, while being at the same time more efficient than other sawing and cutting procedures. With the CNC control, cutting values as well as combinations of various segment lengths/volumes can be programmed, making this machine attractive also for smaller batches.
Through the use of special, only 2.6mm thick one-way carbide saw blades in conjunction with minimum quantity cooling/lubrication, perfectly smooth edges and burr free segments can be obtained with very little scrap. Inclined loading magazine on the loading side and automatic sorting of trim cuts and remnants.