HSS coated circular saw blade – Julia – Red Dragon
HSS coated circular saw blade with a multilayer coating on a HSS circular saw blade body with a 2.5 µm thickness layer plasma and very high hardness of the deposited coating of 3.200 Vickers (HV 0.05)
Description
HSS coated circular saw blade with a multilayer coating on a HSS circular saw blade body with a 2.5 µm thickness layer plasma with special stoichiometric mix of Titanium, Carbon and Acetylene, as to realise nano-layers which confer to this coating a very low friction coefficient of 0.18, added to a very high hardness of the deposited strate of 3.200 Vickers (HV 0.05).
These two properties guarantee to the blade high performances drastically reducing wear and chip welding problems to improve the cut finish.This coating has an obsidation temperature of approx. 470°C and consequently must be used with lubrorefrigeration.
It's well suited for the cutting of stainless steels, Titanium, high alloyed steels and for cutting brass and copper.

Pitches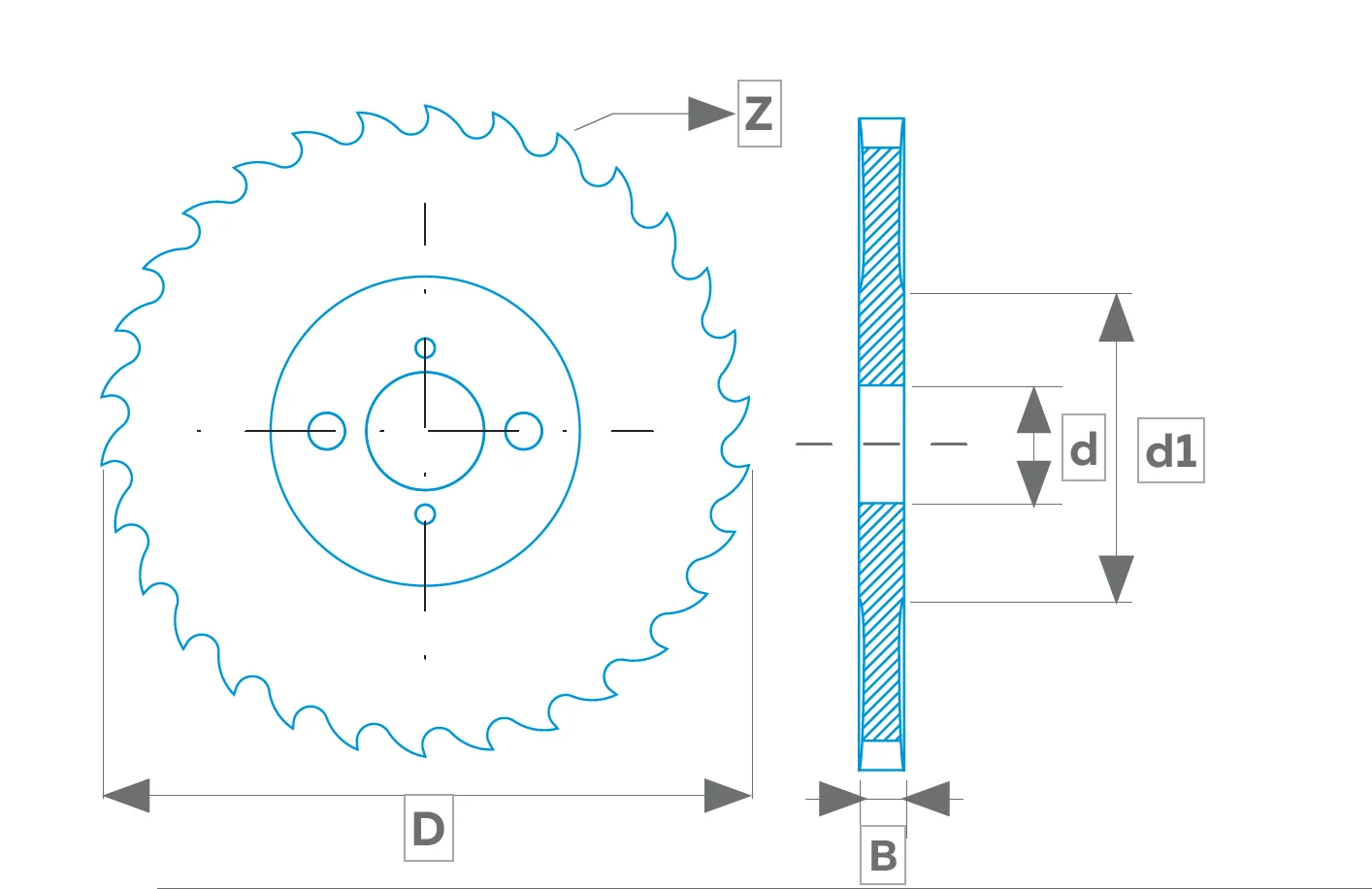 D
B
d
d1
Z
T 1.5
T 2.5
T 3
T 4
T 4.5
T 5
T 5.5
T 6
T 7
T 8
T 9
T 10
T 12
T 14
T 16
T 18
A
A
Bw
Bw
Bw
Bw
Bw
C
C
C
C
C
C
C
C
C
175
1,2
32
75
360
220
180
140
120
110
100
90
80
70
60
2,0
32
75
200
1,0
32
100
420
250
200
160
140
130
120
100
90
80
70
60
1,2
32
100
1,5 / 1,6
32
90
1,8
32
90
2,0
25,4 / 32
90
225
1,2
32
100
470
280
220
180
160
140
128
120
100
90
80
70
60
1,5 / 1,6
32
90
1,9 / 2,0
32 / 40
90
250
1,2
32
100
520
320
250
200
180
160
140
128
110
100
90
80
66
1,5 / 1,6
32
100
2,0
25,4 / 32 / 40
100
2,5
25,4 / 32 / 40
100
3,0
32
100
275
1,2
32
100
340
280
220
200
180
160
140
120
110
96
90
70
60
1,6
32
100
2,0
32 / 40
100
2,5
25,4 / 32 / 40
100
3,0
32 / 40
100
300
1,6
32 / 40
100
380
300
220
210
180
170
160
140
120
104
90
80
68
2,0
32 / 40
100
2,5
32 / 38 / 40
100
3,0
32 / 40
100
315
1,6
32 / 40
100
400
300
240
220
200
180
160
140
120
110
100
80
70
60
1,8
40
100
2,0
32 / 40
100
2,5
32 / 40
100
3,0
32 / 40
100
325
2,0
32
120
410
320
250
220
200
190
170
150
128
110
100
80
72
64
2,5
32 / 40
120
3,0
40
120
350
1,8
32 / 40 / 50
120
440
350
280
240
220
200
180
160
140
120
110
90
80
70
60
2,0
32 / 40 / 50
120
2,5
32 / 40 / 50
120
3,0
32 / 40 / 50
120
370
2,0
40
120
380
280
260
220
210
190
160
140
120
110
96
80
70
64
2,5
40 / 50
120
3,0
32 / 40 / 50
120
3,5
40
120
400
2,2
40 / 50
130 x 2,5
310
280
250
230
200
180
160
140
120
100
90
80
70
2,5
32 / 40 / 50
120
3,0
32 / 40 / 50
120
3,5
40 / 50
120
4,0
50
120
425
2,5
40 / 50
120
320
300
260
240
220
190
160
150
130
110
90
84
70
3,0
40 / 50
120
3,5
50
120
4,0
50
120
450
2,5
40 / 50
130
350
320
280
260
230
200
180
160
140
120
100
90
80
3,0
40 / 50
130
3,5
40 / 50
130
4,0
40 / 50
130
500
3,0
40 / 50
130
380
350
310
280
260
220
200
170
160
130
110
100
90
3,5
40 / 50
130
4,0
40 / 50
130
525
3,5
50
140
410
360
330
300
270
230
200
180
164
130
110
104
90
4,0
50
140
550
3,0
50 / 90 / 140
200 / 225
430
380
340
310
290
250
220
190
170
140
120
110
90
3,5
50 / 90 / 140
140 / 200 / 225
4,0
50 / 90 / 140
140 / 200 / 225
600
3,5
50 / 90 / 140
225
460
420
380
340
320
270
240
210
190
160
130
120
100
4,0
50 / 90 / 140
200 / 225
620
3,5
140
225
480
430
390
350
320
280
240
220
190
160
140
120
110
4,0
140
225
650
4,0
80
225
510
450
410
370
340
290
260
230
200
170
150
130
110
5,0
80
225
700
4,0
80
225
540
480
430
390
360
310
270
240
220
180
150
140
120
5,0
80
225
Pin hole dimensions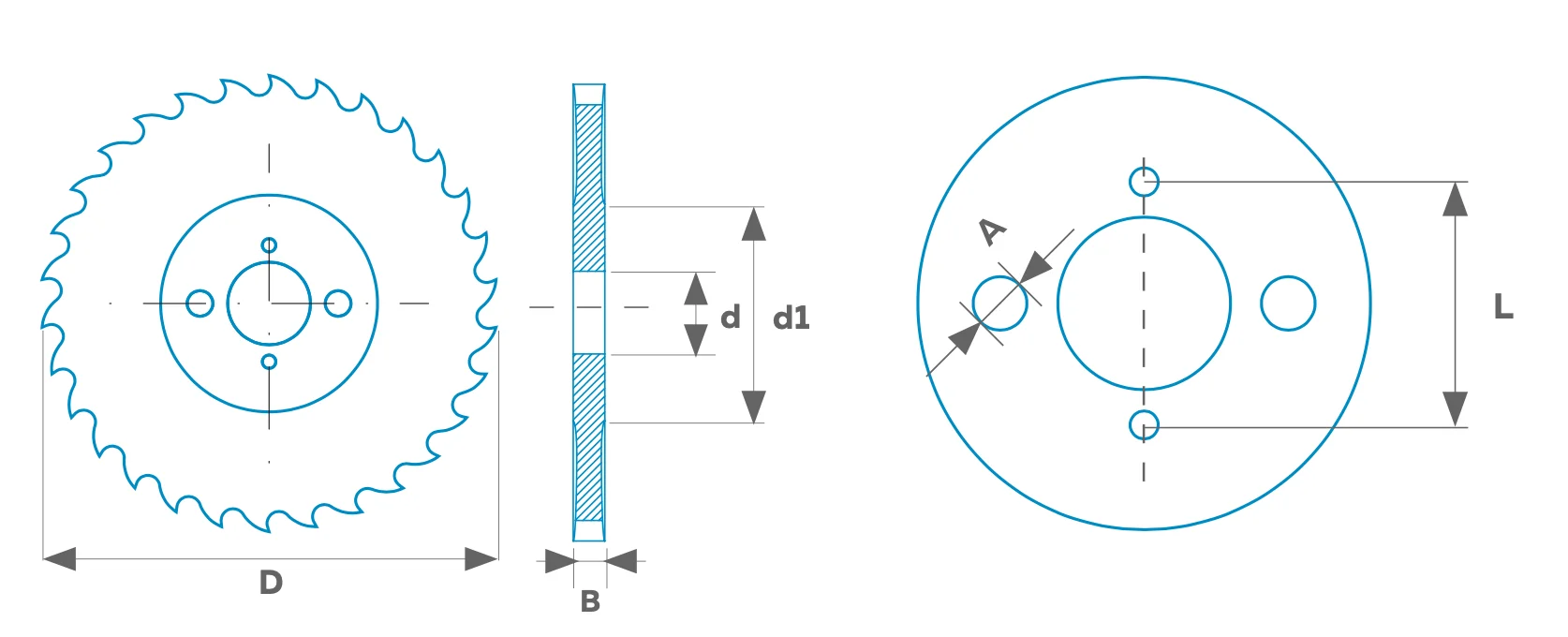 D
B
d
N° x A x L
175
1,2 / 2,0
32
2/8/45 + 2/11/63
BAIER
200
1,0 / 1,2 / 1,5 / 1,6 / 1,8 / 2,0
32
2/8/45 + 2/11/63
UNI SLOTS
225
1,2 / 1,5 / 1,6 / 1,9 / 2,0
32
2/8/45 + 2/11/63
UNI SLOTS
1,9 / 2,0
40
2/8/55 + 4/12/64
250
1,2 / 1,5 / 1,6 / 2,0 / 2,5 / 3,0
32
2/8/45 + 2/11/63
2/8/45 + 2/9/50 + 2/11/63
BAIER
UNI SLOTS
2,0 / 2,5
40
2/8/55 + 4/12/64
275
1,2 / 1,6 / 2,0 / 2,5 / 3,0
32
2/8/45 + 2/11/63
2/8/45 + 2/9/50 + 2/11/63
UNI SLOTS
1,6 / 2,0 / 2,5 / 3,0
40
2/8/55 + 4/12/64
300
1,6 / 2,0 / 2,5 / 3,0
32
2/8/45 + 2/11/63
2/8/45 + 2/9/50 + 2/11/63
UNI SLOTS
1,6 / 2,0 / 2,5 / 3,0
40
2/8/55 + 4/12/64
315
1,6 / 1,8 / 2,0 / 2,5 / 3,0
32
2/8/45 + 2/11/63
2/8/45 + 2/9/50 + 2/11/63
UNI SLOTS
1,6 / 1,8 / 2,0 / 2,5 / 3,0
40
2/8/55 + 4/12/64
325
2,0 / 2,5
32
2/8/45 + 2/11/63
2,5 / 3,0
40
2/8/55 + 4/12/64
350
1,8 / 2,0 / 2,5 / 3,0
32
2/8/45 + 2/11/63
2/8/45 + 2/9/50 + 2/11/63
UNI SLOTS
1,8 / 2,0 / 2,5 / 3,0
40
2/8/55 + 4/12/64
1,8 / 2,0 / 2,5 / 3,0
50
4/15/80 + 4/14/85
370
2,5 / 3,0 / 3,5
32
2/8/45 + 2/11/63
2,0 / 2,5 / 3,0 / 3,5
40
2/8/55 + 4/12/64
2,5 / 3,0
50
4/15/80 + 4/14/85
400
2,5 / 3,0
32
2/8/45 + 2/9/50 + 2/11/63 + 2/12/64
2,2 / 2,5 / 3,0 / 3,5
40
2/8/55 + 4/12/64
2,2 / 2,5 / 3,0 / 3,5 / 4,0
50
4/15/80 + 4/14/85
425
2,5 / 3,0 / 3,5
40
2/8/55 + 4/12/64
2,5 / 3,0 / 3,5 / 4,0
50
4/15/80 + 4/14/85
450
2,5 / 3,0 / 3,5 / 4,0
40
2/8/55 + 4/12/64
2,5 / 3,0 / 3,5 / 4,0
50
4/15/80
4/15/80 + 4/14/85
500
3,0 / 3,5 / 4,0
40
2/8/55 + 4/12/64
3,0 / 3,5 / 4,0
50
4/15/80 + 4/14/85
525
3,5 / 4,0
50
4/15/80 + 4/14/85
550
3,0 / 3,5 / 4,0
50
4/15/80 + 4/14/85
3,0 / 3,5 / 4,0
90
3/12,5/160
3,0 / 3,5 / 4,0
140
4/17,5/170
600
3,5 / 4,0
50
4/15/80 + 4/14/85
3,5 / 4,0
90
3/12,5/160
3,5 / 4,0
140
4/17,5/170
620
3,5 / 4,0
140
4/17,5/170
650
4,0 / 5,0
80
4/23/120
700
4,0 / 5,0
80
4/23/120